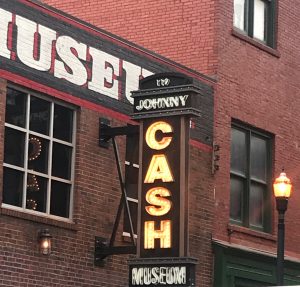 Angela and I recently took a trip to Nashville – a girls weekend with our friend P.  It was a trip born from a dare in a bar called Losers at the MGM in Las Vegas. And we actually made it happen.  Then, by sheer coincidence it ended with us sitting with some random strangers at Losers Nashville, where one of the random strangers 'won the bet.' Perfect.
I love Nashville.  I loved it from the minute I rolled through with my mom on my cross-country move to Los Angeles.  I loved the vibe of the city. I loved the live music everywhere. It's fair to say that had I not been with my mom, I might have just stopped, planted roots and never made it to the west coast.
When I left Boston for LA, it was assumed that someday I'd be back, but after I visited Nashville, that all changed.  At first it was just a weird thought in my head, but overtime when people asked me "will you ever leave LA?" I started telling them I had a feeling Nashville might be a stop on my journey.
In the 14 years since then, I've travelled in some country music circles but I've never made it back.  As a card-carrying member of No Shoes Nation, I've travelled 6,000 miles round trip each summer to see the last night of the Kenny Chesney tour at Gillette Stadium in Foxboro, MA, I've wished plenty of friends 'safe travels' on their trips to Music City, but until October I had never made it back.
I still love the vibe and the live music.  For a Bostonian West Coaster the general friendliness of the city is a little shocking at first.  "Oh, you're just saying hello." Oh, right, people in other places do that. The food was great – to be fair we'd come equipped with more than a few lists of reccos from trusted sources – the beers were cold (I try to only drink local beers when I travel – cause, why not?  Two thumbs up, Nashville!) and the city was welcoming.
Each of us picked one thing that was a MUST for Girl's Weekend.   I just wanted as much live music as I could get. I'd done most of the touristy stuff in 2004, and I've travelled so much this year, I just wanted to relax and soak in the tunes.  Angela and P's MUST was the Johnny Cash Museum. Zero complaints from me.
I love Johnny Cash, I love museums about people's lives.  Solid wins all around. This was a great museum, totally worth it if you find yourself in Nashville.
Recently, I've been working on a book (it's a YA novel, set in the 90s).  A book I intentionally left at home because I didn't want to be distracted on Girl's Weekend.  I'm in the editing and reimagining phase – my head goes to some interesting places in this process.  I certainly didn't expect Nashville to draw up feelings, much less the Johnny Cash Museum.
At some point during our visit, we all got separated.  I turned into the section centered on the end of Johnny's life, and just inside Johnny's "Hurt" video was playing on a monitor.  I stopped dead in my tracks. The same way I did the first time I saw it. The original NIN song factors deeply in my feelings about the book (and its subject matter), and when I first heard Johnny Cash's version during college, it ripped me apart.  Just like it did in Nashville.
I must have watched it at least three times, through the tears in my eyes.  I'm not sure where Angela and P were during that time, but I'm glad neither of them saw that, because I'm not sure I would have been able to explain.  But I'm infinitely grateful they had it on their MUST list.
'Til Next Time, Nashville!
Ciao , TCurtis