I love shoes as much as Ron Burgundy loves Scotch.  My love of shoes started early.  The bolder, the better.  My sister had a pair of patent leather, red clogs in the late 70's, which I inherited in the early 80's.  Don't they sound amazing?!  I wore them every chance I got.
There's a picture of me and my cousins from 1980.  We had just returned from a week of camping and after everyone had showered and gotten ready, we were all going to Pizza Hut for dinner.  There are all the kids in tank tops, shorts and tennis shoes.  Then there's me, in a pink dress with red flowers on it, socks up to my knees, and my red clogs.
Things didn't change into adulthood.  In college during the 90's I was a devout Mary Jane, Doc Martin, and high heeled, lug soled loafer wearer.  I still love a good Mary Jane.  I even had a hideous pair of shiny, red platform stripper heels that looked better suited for Pamela Anderson than me.  I owned them because they reminded me of my red clogs.  And I hate to say it, but I actually wore them on several occasions.  Hey, I lived in Las Vegas.
Recently, I have used shoes as retail therapy.  I went through a rough two years with a separation and a divorce, then a move to another state.  Hideous, shiny and red are no longer on the wish list.  My taste has changed and my shoes can be expensive.
I typically buy them from consignment or ebay and most of them I resell after a year or so.  In two years, I acquired a pair of espadrilles purchased on vacation in Hawaii at a TJ Maxx when I realized my marriage may be past the point of saving.  From there, I bought a brand-new pair of Diane Von Furstenberg tall, black, high heeled boots.  They're hard to walk in, but they're gorgeous, and what cost fashion?
Then, I needed to counter those with a tall brown, leather, high heeled Ugg boot that I LOVE because they remind me of the 70's.  Easy to walk in and oh so comfortable with the shearling lined toe bed.  Next, a pair of Gucci slides which reminded me of Miami in the 1980's because, why not?!
Stuart Weitzman wedges ala Duchess Kate, a pair of Lanvin block heeled sandals just like a pair my mom had in the 70's.  Another block heeled sandal by Charles Jourdan because they reminded me of Studio 54, and a purple, lizard, strappy Yves Saint Laurent platform sandal because they reminded me of a classier version of the shiny, red platform.  Finally, a pair of simple black Prada pumps.  And just because flats should be represented, a pair of Loeffler Randall burgundy, suede, ankle tied flats.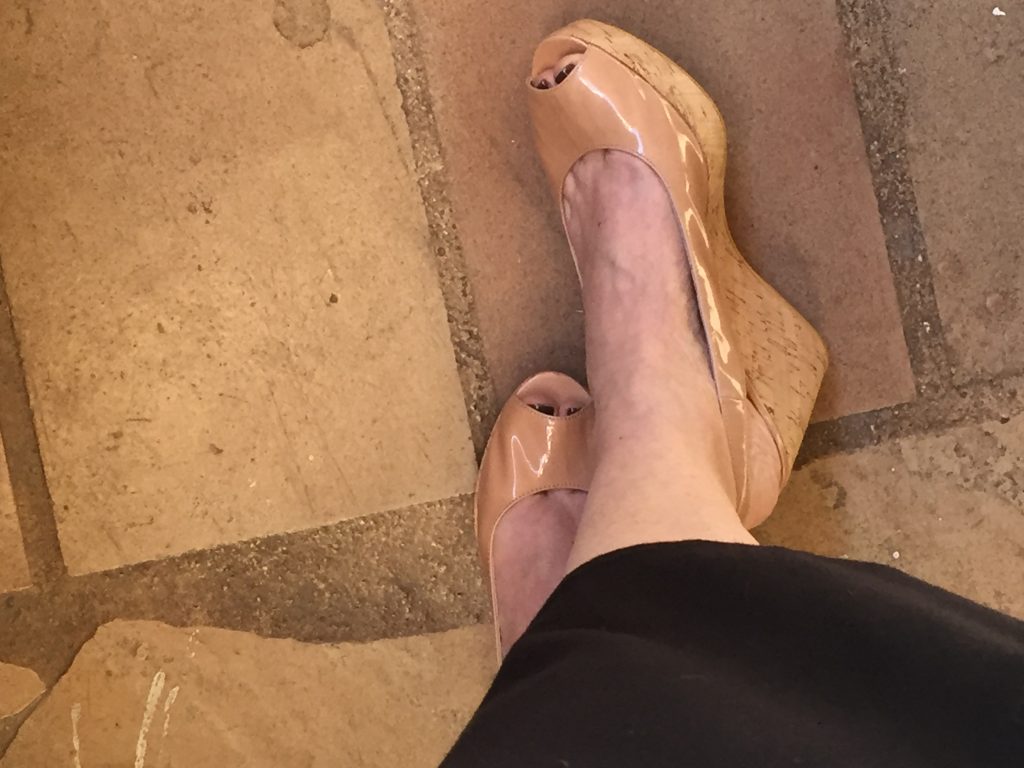 There are probably six more pairs, but I've already sold them.  As you can tell, I'm pretty nostalgic, and I like shoes that remind me of the things I love.   But, I'm also looking to the future.
All this for the amazing, tall boyfriend I'm going to get and the fabulous fucking life I'm going to lead 😉 Dream big, friends, dream big.  And love shoes, because they make you happy.